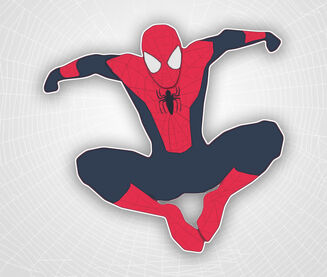 DuttPanda is a fictional panda cyborg created by a fourteen year old Asian-American individual to contribute to the glorious Marvel Comics Fan Fiction Wiki Database.
His sole purpose is to create and preserve Spider-Man biographies and other fan fiction works. Other than that, he is notable and infamous for his misinterpretations, exaggerations, annoying attitude and the idiotic quotations he states which he thinks are valid and funny jokes.
Most of his works, he believes is garbage, but when he will get rid of his writer's block, he will believe all of his works have been fantastic. But currently, he is working on Earth-1028, a fictional realm, which he believes will please himself and some eager audiences, if there is any.
He is an avid comics reader, likes Spider-Man, Batman, food, manga, anime, Dragon Ball Z, likes filling up stuff (this is an example) and also doing graphics designing.
In the real world, he is currently working on a very small Bangladeshi comics and superhero magazine dubbed "Jamil's Comics & Collectables" and writes articles and reviews Marvel and other science fiction films. He has written a total of 17 articles, and he is seriously underpaid, for a fourteen year old part time student spare time fan fiction writer and bare time magazine editor.
For years, he has been trying to get a 3D software, where he can do 3D models and stuff and animation, but the free ones he has always installed, turn out to be either garbage, demo, bullshit or somewhat too much cheap.
Nevertheless, he likes the companionship of this wiki.
Trending pages
All items (87)