Blade is a Marvelette Cinematic Universe Phase Five film. It was released on October 28th, 2022, following Captain Marvel: Galactic Storm and preceding Ant-Man and the Wasp and the Ant-Man. The film is directed by Jordan Peele.
Cast
Mahershala Ali as Eric Brooks / Blade
Jared Leto as Michael Morbius (First Appearance)
Viola Davis as Tara Brooks (First Appearance) (Death)
Morgan Freeman as Jamal Afari (First Appearance) (Death)
Hugh Grant as Vlad Dracula (First Appearance)
Eric Roberts as Cyrus Cutter (First Appearance) (Death)
Emma Stone as Rachel van Helsing (First Appearance)
Tim Curry as Mephistopheles
Malcolm McDowell as Deacon Frost (First Appearance) (Death)
Emmy Rossum as Lilith Drake (First Appearance)
Ellen Page as Dakota North (First Appearance)
David Thewlis as John Falsworth (First Appearance)
Domhnall Gleeson as Kenneth Crichton (First Appearance) (Death)
Crew
Jordan Peele: Writer, Director
Mahershala Ali: Writer, Producer
Kid Marvelette: Executive Producer
Kevin Feige: Executive Producer
Trinh Tran: Producer
Victoria Alonso: Producer
Thom Yorke: Composer
Plot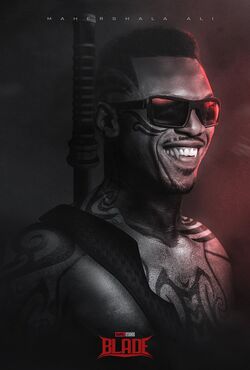 Following the death of his mother, Eric Brooks becomes the Vampire Hunter known as Blade, and finds himself teaming up with the proto-vampire Morbius, as well as a woman named Rachel van Helsing, who has been hunting vampires her entire life. However, their crusade will eventually lead them to uncovering the truth surrounding the legend of Dracula...
Trivia
Blade is the first film in the MCU to be Rated R.
Mahershala Ali has previously appeared in the MCU as Cottonmouth in Luke Cage. However, he approached Kevin Feige about playing Blade.
Blade is the second solon hero to previously have his own franchise before being adapted into the MCU, the first being Spider-Man.
Emma Stone, who portrays Rachel van Helsing, previously played Gwen Stacy in the short-lived Amazing Spider-Man series.
Ellen Page, who portrays Dakota North, previously played Kitty Pryde in Fox's X-Men series. Pryde would eventually be introduced into the MCU played by Jodelle Ferland.
Jared Leto appears as Morbius after previously playing him in Sony's solo Morbius film, however the two characters are not the same version. After Morbius was a critical failure, Marvel struck another deal with Sony to gain the rights to use him in the Blade franchise, and Jared Leto agreed to reprise the role.
Community content is available under
CC-BY-SA
unless otherwise noted.