Characteristics
Status
Education
Journalism degree
Origin
History
2013 was the start of the Heroic Age: The year masked marvels and

dark knights

became our champions.

-- Ben Urich

Ben Urich was an ace reporter for the Daily Bugle and uncle of Ken and Phil Urich.
Phil came to him and revealed his affiliation with the Goblin Nation, their inner-workings, and that their leader was Oscorp CEO Norman Osborn. Phillip also gave him an exclusive with Spider-Man, who told Urich Osborn's origins. Urich was contemplating publishing his story when he arrived home to find The Goblin inside his apartment. He told him that he kidnapped Ken and that he would kill him if Urich published the story; however, Ben anticipated a confrontation and hid a recorder in his trenchcoat. With Phil had turned himself into the NYPD and confessing, Ben expected a retaliation from The Goblin anyhow, he published his story, exposing Osborn.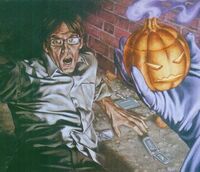 During the Goblin Nation's attack on the city, Urich was personally attacked by Osborn's goons, but rescued by a mysterious man in black. Sadly, Ken was never found nor confirmed to be alive or dead.

Powers and Abilities
Powers
None known.

Abilities
None known.

Strength level
Unknown.

Weaknesses
None known.

Paraphernalia
Equipment: None known.
Transportation: None known.
Weapons: None known.

Notes
Trivia
See Also
Appearances of Benjamin Urich (Earth-774237)

Quotations by Benjamin Urich (Earth-774237)
Discover and Discuss
Links and References
---