Characteristics
Status
Occupation
Trainer; former student
Origin
History
Now Peter, what did I tell you about power and responsibility?

-- Ben Parker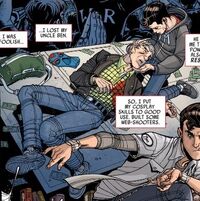 Ben Parker was the older brother of Richard Parker. When Richard and his wife, Mary, died in a plane crash, Ben and his wife, May, adopted their children, Peter and Teresa. During the early days of the New York gang wars, Ben and his nephew were walking home from F.E.A.S.T., they were confronted by Dennis Carradine, who shot and killed Ben.
Legacy
Carradine had killed Ben as his initiation into the Yancy Street Gang. His death influenced Peter to take the vigilante identities of Masked Marvel and Spider-Man.

Powers and Abilities
Powers
None known.

Abilities
None known.

Strength level
Unknown.

Weaknesses
None known.

Paraphernalia
Equipment: None known.
Transportation: None known.
Weapons: None known.

Notes
This version of the character is exclusive to the continuity of the Heroic Spider-Man and is an adaptation of Ben Parker. The original character was created by Stan Lee and Steve Ditko and first appeared in Amazing Fantasy #15.
Ben didn't attend college. He instead gave seventy-five percent of his saving to Richard, to put towards his college fund.

Trivia
See Also
Appearances of Benjamin Parker (Earth-774237)

Quotations by Benjamin Parker (Earth-774237)
Discover and Discuss
Links and References
---