Relatives
Alyce Grimm (paternal aunt; former legal guardian), Jacob "Jake" Grimm (paternal uncle; former legal guardian), Daniel Grimm (father), Elsie Grimm (mother), Daniel Grimm Jr. (brother), Alicia Masters-Grimm (wife), Jacob "Jake" Grimm (son), Daniel "Dan" Grimm (son), Reese Jonathan "Buzz" Grimm (son), Charles Marcus "Chuck" Grimm (son) Petunia Yancy "Petal" Grimm (daughter)
Base Of Operations
Baxter Building, Manhattan, New York
Characteristics
Unusual Features
Gray, flexible, rock-like hide; No apparent neck; no outer ear.
Status
Occupation
Adventurer, former astronaut, former test pilot
Origin
Origin
Mutate- exposed to cosmic rays
History
Origin
Early Life
Ben was born to the New York City natives, Daniel Grimm, a Jewish man of German and Ukranian descent, and Elsie Grimm, a black woman who converted to Judaism after she fell in love with Daniel. Both Daniel and Elsie died in an accident. As a result, Ben was adopted by his paternal aunt and uncle, Alyce Grimm and Jacob "Jake" Grimm. Ben attended college with Lǐ dé Richards. The two initially did not get along; however, they grew to become the best of friends, practically like brothers.
Superhero Career with the Four
Throughout Ben's career in superheroics, Ben eventually met and fell in love with Alicia Masters. Their relationship took strain over the years, especially during the period when Alicia was possessed by the Puppet Master and the aftermath of that event. Their love for each other remained strong and true and eventually they found their way back to one another. They would eventually start a large family with one another, having five children.

Powers and Abilities
Powers
Rock-like Skin: The Thing possesses a smooth, rock-like hide as a result of exposure to cosmic rays. The mutagenic process caused his musculature, bone structure, internal organ composition, soft tissue structure, and skin to greatly increase in toughness and density.

Superhuman Strength: The Thing's primary superhuman power is his great physical strength.
Superhuman Stamina: The Thing's advanced musculature produces considerably less fatigue toxins during physical activity than the musculature of a normal human. The Thing's lungs are of greater volume and efficiency than a normal man's, enabling him to hold his breath underwater for a greater amount of time.
Superhuman Durability: The rock-like composition of the Thing's body renders him highly resistant to physical injury. The Thing's body can resist extremely powerful impact forces. He can also withstand exposure to high levels of explosives, such as being struck full with bazooka shells, without sustaining injury. His body can also withstand extreme temperatures ranging from -75 degrees to 800 degrees Fahrenheit for up to one hour before exposure or heat prostration occurs.
Superhuman Sensory Adaptation: Though his senses aren't superhumanly acute, his five senses can withstand greater amounts of sensory stimuli than he could when he was a normal human being, with no reduced sensitivity.

Geokinesis: can psionically control the movement of the tectonic plates within the Earth's crust within limited areas, probably no less than a radius of a few city blocks. Within this area he can create small or large earthquakes by psionically affecting the Earth's crust. This power is affected/limited/controlled by his emotions. His ability is low-level/limited as of now, but has the potential to get more powerful.

Abilities
None known.

Strength level
Unknown.

Weaknesses
None known.

Paraphernalia
Equipment: None known.
Transportation: None known.
Weapons: None known.

Notes
Ben is the Nexus version of Benjamin Grimm (Earth-616)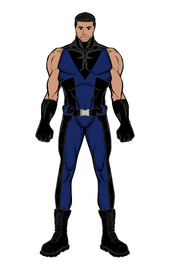 Trivia
See Also
Discover and Discuss
Links and References
---
Community content is available under
CC-BY-SA
unless otherwise noted.