Base Of Operations
Xavier Institute
Characteristics
Unusual Features
Body made entirely of rock.
Status
Occupation
Adventurer, formerly astronaut, pilot
Education
College, US army, NASA
Origin
Origin
Astronaut mutated by exposure to cosmic rays.
History
Cure me, Stretch? You kiddin'? I got it good. Fire eyes ain't never gonna see color again. Can't even open his eyes unassisted. I can still see, and hear, and feel. I just have trouble holding a pencil. No, Reed, I'm OK. If I lose my powers, I lose the X-Ceptionals, and it's the best thing to ever happen to me. They're my family and friends. I stay Ben, I stay the Thing. Life is good as it's gonna get, Stretcho, for all of us. There's a war coming, we better fight it while we can. And you'll need the one and only, ever-lovin' blue-eyed Thing to do it!

-- Thing

Early History
Ben Grimm's history is the same as that of his Earth-616 counterpart up until planning the top secret government flight with Reed Richards at college.
Encountering Cosmic Problems
The Discovery
An X-Ceptional Man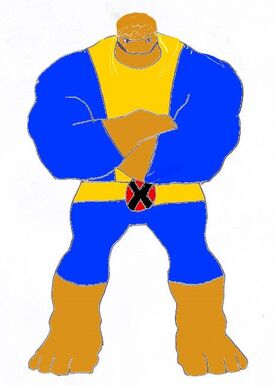 The Choice
More coming soon!

Powers and Abilities
Powers
None known.

Abilities
None known.

Strength level
Unknown.

Weaknesses
None known.

Paraphernalia
Equipment: None known.
Transportation: None known.
Weapons: None known.

Notes
Trivia
See Also
Discover and Discuss
Links and References
---
Community content is available under
CC-BY-SA
unless otherwise noted.