Avengers: War is an animated film from 2014, animated with 2D technique. It's first movie in Marvel Animated Universe.
Plot
Thanos arrives on earth. He wants to collect all Infinity Stones. Thanks to this, he will gain tremendously powerful strength. On his way to the power stand Earth's Mightiest Heroes. They must learn to cooperate with each other. Unfortunately, it does not go well for them.
Characters
Iron-Man/Tony Stark
Captain America/Steve Rogers
Black Widow/Natasha Romanoff
Hawkeye/Clint Barton
Hulk/Bruce Banner
Thanos
Nebula
Gamora
Nick Fury
Phil Coulson
Maria Hill
Post Credits Scene
Loki steals Tesseract from the base of S.H.I.E.L.D.
Gallery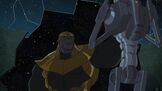 Curiosities
This is the first movie from the Marvel Animated Universe universe created by TamukaTheGhost.
This movie is in the PG-13 age category.
Tony Stark in the conversation scene with Nick Fury mentions an intelligent teenager. Probably he meant Peter Parker.
In the sequel "War", Thor will be the main character.
During the chase of Steve and Crossbones, the Stark Tower in the background is visible.
Natasha mentions the Operation in Budapest.
Initially, the film was to belong to the Marvel Animated Features series. Later, it was decided to change the story and the design of the characters, and that's how the movie was made.
Community content is available under
CC-BY-SA
unless otherwise noted.