Base Of Operations
Avengers Hydrobase
Characteristics
Status
Occupation
Adventurer, lumberjack, Iron Avenger
Education
Implanted with some of Wolverine's memories, self-absorbed knowledge
Origin
Origin
A robotic lookalike of Wolverine
History
Albert is a mechanical duplicate of the famous X-Man, Wolverine, created by the nefarious Donald Pierce. He was once a nameless robot paired with a smaller android called Elsie Dee, both built to kill the immortal mutant. They were abandoned once they failed their missions, left to their own devices. At one point, Albert was separated from his "sister" by a mysterious man who later reprogrammed him for his own uses alongside some others. Albert was freed alongside his contemporaries, later banding together to form the Iron Avengers with their own wills. To this day however, his sister remains missing.

Powers and Abilities
Powers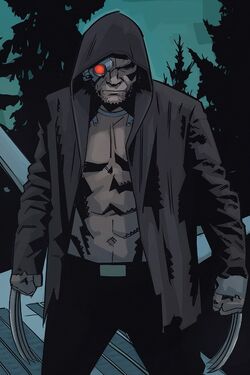 Albert possesses nearly all the powers of his template. Aside from Wolverine's healing factor, he is physically superior to Wolverine in every way. His mechanical composition means that he can't tire and is immune to pain. His increased weight does not hamper his speed and even the mutant's phenomenal superhuman senses are replicated by the robot's sensors. Most of his body is made of true Adamantium, with the notable exception being his omniurn joints. That said, he can also lift heavier weights and punch harder than his original version.
Superhuman Strength
Superhuman Durability
Superhuman Speed
Superhuman Agility
Superhuman Senses
Disease Immunity
Self-Sustenance

Abilities
Albert is an expert martial artist who possesses the skills of the original Wolverine. He may not be implanted with all his memories, but he is implanted with nearly all the knowledge that the X-Man has. From swordfighting to multilingualism, Albert can do whatever the Wolverine can. It should be noted that his battles with his counterpart actually dealt some damage to his CPU, making him not truly as competent as Wolverine.

Strength level
Albert's metallic body grants him Class 10 level strength.

Weaknesses

Albert's most notable weakness is his lack of healing factor. Even he admits that he couldn't win against Logan without even a limited amount of healing factor. It was noted that his speed is not hampered by his weight, but this means that he is greatly more exposed to a weakness he shares with Wolverine: drowning. He doesn't need oxygen or sustenance, but throwing him to the bottom of the ocean basically disables him. He's also susceptible to EMP's and electricity.

Paraphernalia
Equipment: Wolverine's brown-and-tan uniform. Allegedly, this is the original one the mutant wore in the past.
Transportation: Carrier-Zero.
Weapons:
Adamantium-Carbonadium Claws: Under Ezekiel's control, the composition of Albert's claws were altered with the addition of carbonadium. Due to his unwillingness to reduce the claws' lethality, Stane crudely inserted a considerable amount of carbonadium to the claws' bodies. This increased the size of the claws and lengthened them by two inches. The claws are able to interrupt the healing factor of superhuman entities, as long as they're of comprehensible nature. Naturally, carbonadium is harmless to self-repair modules possessed by mechanical entities. However, Stane's further upgrades made Albert's claws capable of disrupting the "healing factor" of machines as well.

Notes
This character, Albert, is based on the character of the same name created by Larry Hama and Marc Silvestri first debuting in Wolverine Vol. 2 37 (March, 1991).

Trivia
Like the rest of his teammates, Albert assumes one of his template's aliases. In this case, he uses the name Peter Richards, a false name Wolverine used in older days.
Albert is overprotective towards Elsie Dee, who in turn also disdains those who look at him the wrong way. They may only simulate emotions, but they have a deep fondness of each other's companionship. Even in the Iron Avengers, Albert still seeks to reunite himself with Elsie.

Despite this, Albert also sees his new teammates as siblings similar to Dee herself.

One of the memories implanted within Albert's CPU is apparently Wolverine's first battle with the Hulk. Due to how his constant his memory refreshes, Albert always remembers such memory as if it happened yesterday. This causes him to contempt the Cosmic Hulk as he considers him his rival, much to the latter's annoyance.
See Also
Discover and Discuss
Links and References
---
Community content is available under
CC-BY-SA
unless otherwise noted.