Characteristics
Status
Origin
Origin
Blue Marvel briefly gained the Power Cosmic and joined the New Avengers.
History
Blue Marvel's history is the same as that of Earth-616's Blue Marvel up until the Marvel NEW! relaunch.
Blue Marvel was briefly seen in space in the company of Uatu the Watcher. It is believed he mimicked the Power Cosmic. He then returned to Earth and fought alongside the New Avengers before joining them.

Powers and Abilities
Powers
Anti-Matter Manipulation: Blue Marvel retains his 616 powers, though they have been strengthened from possibly mimicry of the Power Cosmic:
Super Strength
Super Smart
Super Durability
Flight
Super Speed
Super Agility
Super Stamina
Healing Factor
Super Senses
Anti-Matter Manipulation
Concussive Bolts
Healing Others
Space Survival
Density Shifting

Abilities
Blue Marvel has intellect surpassing that of humans, and has been trained by the military in armed and unarmed combat.

Strength level
Unknown.

Weaknesses
None known.

Paraphernalia
Equipment: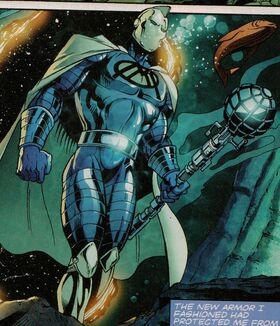 Weapons: Marvel briefly wielded a scepter.

Personality
Unknown.
Notes
Trivia
See Also
Community content is available under
CC-BY-SA
unless otherwise noted.