The Spider-Mech, Doctor Spider
Relatives
Unnamed parents
Base Of Operations
Horizon Labs
Characteristics
Status
Occupation
Adventurer, scientist, vigilante, doctor, chemist
Origin
History
Prodigal Son
Park Aikman was born an only child in Sakai, Japan. His parents were uneducated and could not find steady work. Wanting their son to have a better life, they resorted to criminal activity in order to fund his education. Park knew of his parents' illegal dealings, and made it his primary focus to study hard so his parents' efforts were not for naught. Eventually, Park achieved his doctorate. However, he rarely left home, as his parents were consumed with paranoia, fearing that their deeds would come back to haunt them and their son. As such, Park left Japan and his parents behind, catching a boat to the United States, and took up the alias Aaron Leopardon, fearing that his name could be traced back to his parents, and wanting to start a new life that his parents could someday be proud of.
the Doctor Is In
A Spider On the Horizon
Times Are a-Changing
Trading a White Coat for an Armored Suit
Coming soon!

Powers and Abilities
Powers
None, Aaron Aikman is an ordinary human.
Abilities
Scientific Knowledge: Aaron Aikman is an accomplished scientist, particularly skilled in the medical application of insect venoms and human biology.
Capable Inventor: Aaron Aikman was partially responsible for the creation of the Cyber-Spider Armor (Mark I), which although not a perfect suit of armor, served its purpose. It was later improved upon by Spider-Man, however, the Mark II armor used the same basic design structure as the Mark I.

Strength level
Unknown.

Weaknesses
Outside of the armor, Aikman has all the weaknesses of an ordinary human. The Spider-Armors (Marks I and II) have no inherently exploitable weaknesses.

Paraphernalia
Equipment:
Weapons: TBA

Personality
TBA
Notes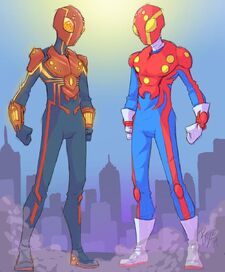 Trivia
As a young adult in New York City, Aaron was fascinated by Spider-Man, and frequently doodled what he believed he would look like as Spider-Man (similarly to the montage of Peter designing his costume in the first Spider-Man movie).
Aaron is fond of basketball.
See Also
Community content is available under
CC-BY-SA
unless otherwise noted.